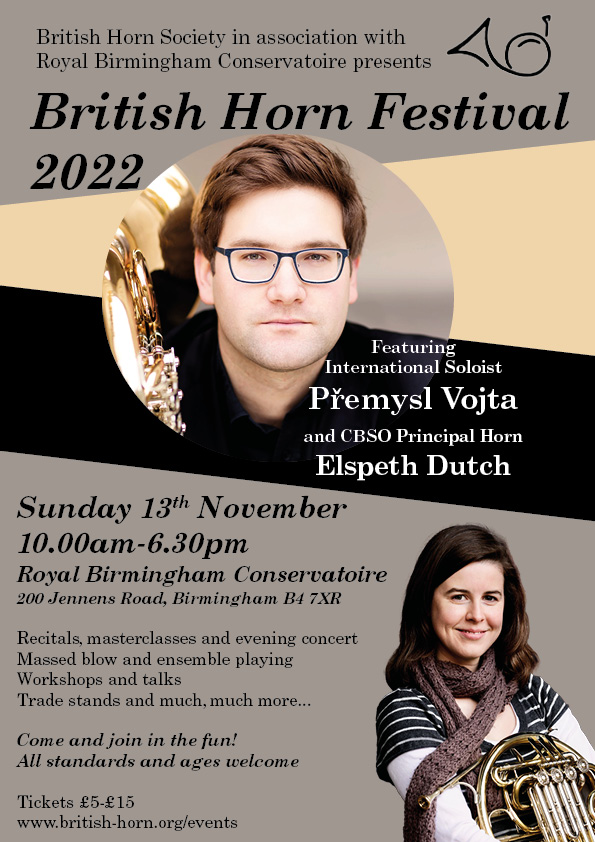 British Horn Festival 2022
We are pleased to announce that tickets for the 2022 British Horn Festival on Sunday 13th November in Birmingham are now on sale. As it's our first live Festival in three years, tickets are priced at £5 for BHS members. Grab yours now to avoid disappointment!
Concerts, Workshops, Masterclasses, Ensemble playing, Trade stands and much, much more…
Get you tickets here: https://www.eventbrite.co.uk/e/british-horn-festival-tickets-419902629067?utm_campaign=post_publish&utm_medium=email&utm_source=eventbrite&utm_content=shortLinkNewEmail
About this event
This promises to be a day with lots of variety of all things horn-related!
There will be an opportunity to perform in horn ensembles plus a massed horn blow in the evening concert in keeping with tradition!
Masterclasses with our international featured artist Přemysl Vojta and CBSO Principal Elspeth Dutch
Workshops on how to maintain both body and instrument as well as introduction to the natural horn and pedagogy.
It's the first time we've been able to meet since Guildhall in 2019 so do come and join us for a great celebration of the horn.
RBC Location, parking, directions link
https://www.bcu.ac.uk/conservatoire/about-us/parking-and-directions
Food and Drink
RBC Cafe will be open all day serving snacks and sandwiches.
To facilitate planning and numbers please can you let us know which workshops/ensembles you might be interested in attending – please email bhschair@gmail.com with your preferences.
Draft schedule (subject to change)
9:30am Early-bird warm-up
10:00am Warm-up sessions for different levels
10:30am Opening concert: CBSO and RBC horns
11:00am Workshops: Horn health matters or Pedagogy discussion group or Introduction to the natural horn or intermediate and advanced ensembles
12:00pm Masterclass with Elspeth Dutch or further ensembles
1:00pm Lunch and informal performances
2:00pm Recital with Přemysl Vojta
3:00pm Workshops and ensembles (same as 11:00am)
3:45pm Masterclass with Přemysl Vojta and ensembles
4:45pm Massed blow
5:30 Evening concert
This year the massed blow piece is the "Turkish March" from Beethoven's incidental music to 
The Ruins of Athens
, Op.113 arranged by John Humphries. Parts can be downloaded here:
Turkish March parts
Our Featured artists;
Přemysl Vojta, winner of the "International ARD Music Competition" 2010, tours worldwide as a soloist. He was awarded the prestigious Beethoven Ring, past recipients of which include artists such as Igor Levit, Lisa Batiashvili and Gustavo Dudamel. He has received much international acclaim for his exceptional album productions, including one complete recording of the horn concertos by Joseph and Michael Haydn, and his album "Metamorphosis", which was recorded using three different types of horns.In October 2021, Přemysl Vojta was appointed as a professor of horn at Folkwang University of the Arts in Essen to succeed the horn legends Hermann Baumann and Frank Lloyd. In the past, he has also taught at Berlin University of the Arts and the Cologne University of Music and Dance.He studied at the Prague Conservatory under Bedřich Tylšar (1998 -2004) and at Berlin University of the Arts under Christian – Friedrich Dallmann (2004 – 2010). While he was a student, Přemysl Vojta had already started his career as a principal hornist at the Berlin Konzerthaus Orchestra, and continues to hold the same position at the WDR Symphony Orchestra in Cologne since December, 2015.Vojta is a member of the Carousel Ensemble, Philharmonia Octets, Breeze Quintets and Dispar Trios.
Elspeth Dutch, featured in the last edition of The Hornplayer magazine,studied with Richard Bissill, Hugh Seenan and Jeff Bryant at the Guildhall School of Music & Drama and upon graduating in 2002 was appointed 1st horn of the City of Birmingham Symphony Orchestra where she has remained ever since. She has played with many of the UK's top orchestras and has performed as a soloist and chamber musician on numerous occasions both in the UK and abroad. She is a horn tutor at Royal Birmingham Conservatoire and has given classes at Guildhall School of Music and Drama, the Royal College of Music, Trinity College of Music, Wells Cathedral School and Junior Royal Academy.